About The Counterfeit Stones
The History
The Counterfeit Stones have successfully toured the globe for nearly twenty years, and during that time have played shows with audience capacities of up to 60,000. Their many fans include Bill Clinton, Prince Edward, Lemmy, Mick Jagger, the Gallagher brothers, Jerry Hall and many many more.
The band formed in October 1991, and although there have been some personnel changes since then, the characters of course never change. They've played most major countries in the world and been booked by multinationals, British Royalty, and some of the most famous international celebrities.
Even Mick Jagger himself quoted The Counterfeit Stones as being, "The Most famous Stones band in England". They've shared stages with Joe Cocker, Iggy Pop, Blur, ZZ Top, Bryan Ferry and many more.
The Line-Up
Nick Dagger is played by Steve Elson.
Keef Rickard is played by Bill Lennon.
Charlie Mott is played by John Prynn.
Bryon Jones, Mick Taylor-Made and Ronnie B Goode are played by David Birnie.
Bill Hymen is played by Steve Stroud and Steve Jones.
Nicky Popkiss is played by Holger Skepeneit.
Manfred Mann and Chuck Ravel are played by Holger Skepeneit.
The Crew
The band would not function without the assistance of our brilliant crew.
The backline technicians are Simon Coldwell and Danny Coldwell, ably assisted by Andy 'Bavers' Bavington.
Front of house engineer is Bill Edis, and the on-stage monitor engineer is Rich Hill.
Other technical staff we would like to thank are Adrian 'The Armwrestler' Atterwell, Dave Payphone, Lou, Charlie, Anita (Marianne Fistfull).
Video editing is by Chris Swanton at De Facto Studios.
The Secret Identities
Steve Elson was born in Balham, London but now lives in Chiswick, West London. Steve has played guitar since he was ten and wrote and produced some hits in the eighties with the Stones sound-alike band Broken English. He has worked with Status Quo, Eddie Grant and The Baby Animals (who had the biggest selling album in Australia in 1996). He has also written songs for Latoya Jackson. His hobbies include keeping fit, scriptwriting and photography. Most recently his hit song Comin' On Strong is included on Grand Theft Auto V (the upgrade).
Bill Lennon Born in the same town as Mick Taylor (Welwyn Garden City) and growing up in one of rock's most famous villages (Knebworth), it was only a matter of time before Bill's true vocation was to show itself. After a time drifting about doing lesser covers bands, Bill decided to frequent the Guitar Institute and graduated as best live performer for his year (2005). With this glowing recommendation he was immediately seconded to the Fraudulent Five's ranks. His hobbies include inventing new ways to fit more students into his day and apologising to his wife!
John Prynn was born in Wimbledon, London and still lives there. John has worked with the Cambridge Footlights Revue, Osric Tenticles, Flex, The Yo-yo's, The Bluescasters, Close Enough For Blues, Donovan, Jackie de Shannon, Rosalie Deighton and currently plays in The Magnificent Men with George from The Bootleg Beatles (not that the band is too happy about it!). John is a qualified graphic designer and his design skills play a big part in the band's artwork. His hobbies include visual arts, cinema, playing drums, eating drums and sleeping drums.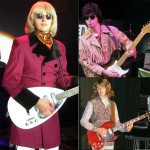 David Birnie was born in Aberdeen but moved to London in 1999 to study at The Guitar Institute (are you spotting a pattern yet?). He completed the Diploma in style and went on to the Degree.  When he graduated he was immediately offered a job by the very people who had taught him his craft. He became guitar tutor at The London College of Music and Media which lasted all of a term before he signed up for "probably the second greatest rock n roll band in the world". He has now been re-enlisted at the Guitar Institute teaching Acoustic guitar. His hobbies include bowling, beer, broads and balalaikas.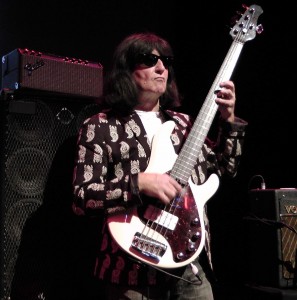 Steve Stroud was born at an early age in Rotherhithe, South London but now lives in deepest, darkest Kent. As a teenager he started to play six string guitar but gave it up after seeing Jimi Hendrix at the Isle of Wight Festival – hence Steve took to the bass. In the early years of his professional career, he played for The Hollies, Bucks Fizz and Cliff Richard but these days, when not touring with the Counterfeit Stones he plays for rock aristocracy such as Lemar, Tony Hadley and Roger Taylor  in the SAS Band. Some of his career highlights include playing bass in the house band for the world-wide Nelson Mandella Concerts and performing with Jeff Beck and Chaka Khan. As a life long Rolling Stones fan when the offer of playing with The Counterfeit Stones came up, he jumped at it.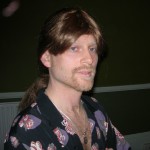 Holger Skepeneit was born in Germany in 1975 and rejoined the band recently after a two year break. He is a professor of music and a true virtuoso who's just as happy playing Jazz, Classical or Rock. "The piano parts on the Rolling Stones' records tend to be subtle but are an essential ingredient".

Read More About The Guitars! >